Yolande Daniels and Sunil Bald founded studioSUMO in 1998 with a commitment to architectural design and researchthat is responsive to social and cultural contexts; informed by the overlap of material studies, cultural research, and a range of scales and media.
studioSUMO's approach has developed in response to cultural, formal, and spatial contexts through research and design projects in New York, Brazil, and Japan lending a geographic diversity that has foregrounded an approach to architecture as a device for engaging the richness and complexities of the built environment.
The practice has been recognized for design excellence by the American Academy of Arts and Letters, New York State Council on the Arts, Japan National Design Council, German National Design Council, AIA NY, and many other organizations.

In November 2022, Daniels and Bald spoke about their work with Jose Herrasti, the president of the L.A. Forum. Herrasti is a founding principal of Mutuo, an architecture studio based in Los Angeles. He is also a John G. Williams Distinguished Visitor in the Fay Jones School of Architecture and Design at the University of Arkansas.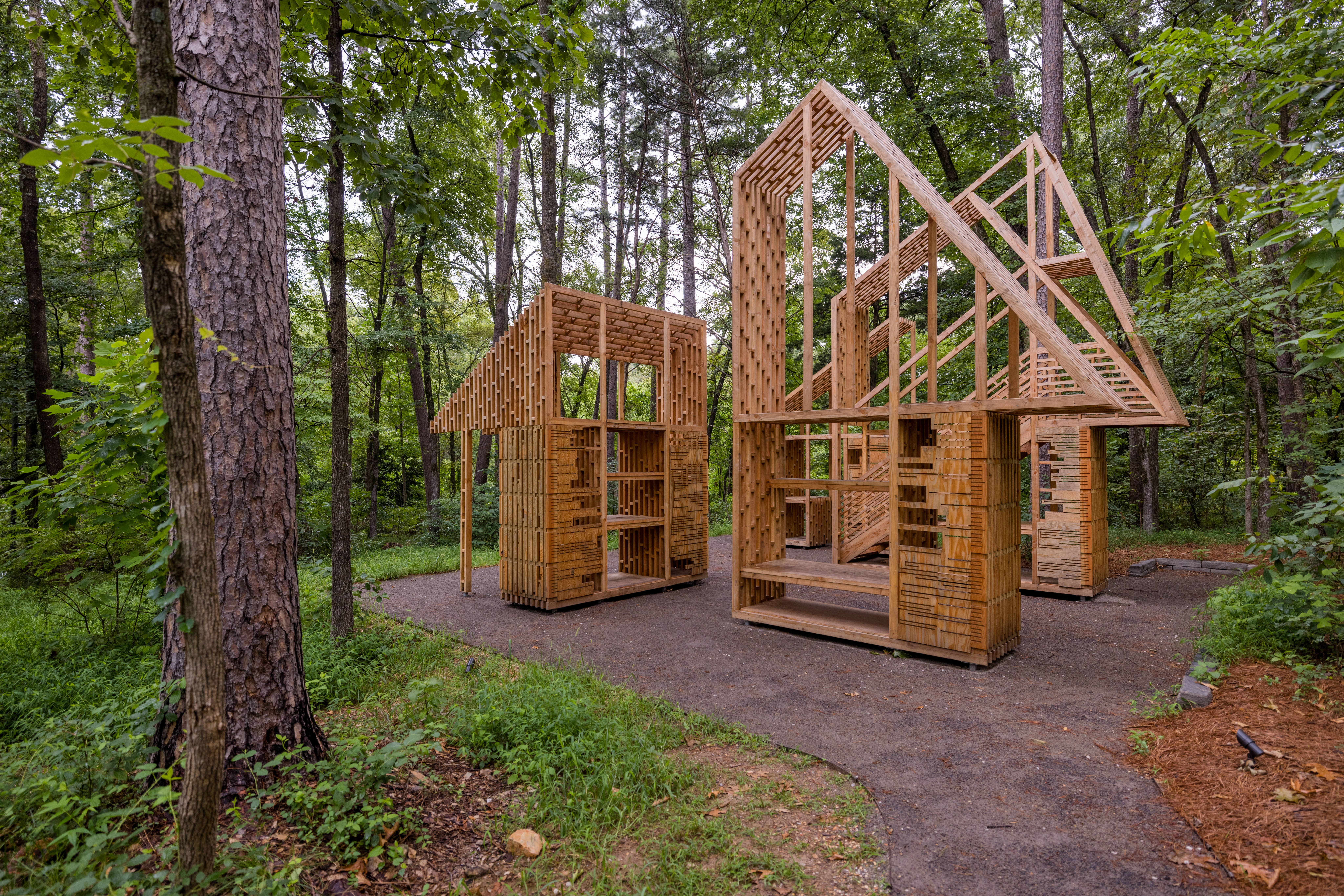 INTERVIEW WITH STUDIOSUMO


Jose Herrasti: Yolande and Sunil, it's my pleasure to see you again and ask some questions about your practice. It seems there is a constant in your work of being in between: of straddling between places, between academia and practice, between architecture and art installations. With this straddling as a constant, let's begin with a question about place. You've worked extensively in Japan. In the US, you've worked from New York and Los Angeles, and your most recent exhibit is at the Crystal Bridges Museum in Arkansas. How does location inform your work?
Yolande Daniels: Location definitely plays a part in the work. Having projects in Japan and living in Japan, being surrounded with architecture and design there was a learning experience and influenced the work. Other places, we try to learn from afar about the cultures that we're working in. For example, we worked for a very long time with the Museum for African Art in New York, and neither of us had been to Africa. But we were always doing a stream of exhibits about different locations in Africa, where each location had a map, and we came to understand the country through the maps as well as the art and architecture.
Architecture and design are a portal for us to enter into other cultures. In Arkansas – and other cities where we've done installations, such as Houston – there's a brief period of immersion, but the design is done before that happens. So we design in the office, and then we go and we install – interaction with the place happens in the installation period. So it seems like there are two ways: one where we're immersed in the culture, and we learn from it and respond. And the other is where we are learning from afar, we make a proposal and then immerse ourselves in the culture. If there is time to make adjustments, we make adjustments, but usually, we hope that we've been sensitive. What do you think, Sunil?
Sunil Bald: One interesting correlation between Japan and Arkansas was the culture of making. In Japan we worked with pretty much one construction company. Understanding the culture of building in Japan, the more projects we did, the more we could think about how the thing would be made while we were designing it. With Arkansas, what was really interesting for us was figuring out how to get it made there and who was going to make it. Then we adjusted the design for the fabricator to make it the way that he did. So in terms of working in other places, it's as much responding to the culture in the conceptualization of the design, as responding to it in the realization of the project.

JH: You have designed and built at different scales, from large school and dormitory buildings and a museum in Japan, to residential interventions in New York, to art installations in museums in the US. Can you talk about working at these different scales?

YD: Well, early on we applied to the Architectural League of New York's young architects portfolio prize, now called the League Prize. It just happened that scale was the topic. We were a young practice, we hadn't done any buildings, we'd only really done installations, some exhibition design, and an interior. So, we were writing about working across scales, without having done the building scale yet. Our work has continued to develop in this way where we are working across scales. I don't really know what to make of it myself. It's just what we do. We started out making things that are small, because we could do them, we could pay for them ourselves. So we made installation projects, competitions, doing a range of buildings to installations. One of the first competitions we won was essentially a peephole in a construction wall at the Deutsche Bank building across from MoMA. That was really small, like, 12 by..
SB: 12 inches by 12 inches, one cubic foot.
YD: We haven't worked that small since, but we've kept that range. Maybe it just keeps your mind nimble, because you're operating at the detail scale, and then also at the larger massing and global scale, working back and forth between them.The things we do in installations often inform approaches to materiality that we take in larger projects.
SB: Often the smallest scale projects ask the largest scale questions. And the larger scale projects actually address very particular issues. So our biggest project, still to date, is this 60,000 square foot Business School, and it asks very local questions. Where our smallest scale things like Crystal Bridges, ask much larger scale questions.

JH: Viewing your work I see an evolution where previous projects inform future work. As an example, I see some similarities, both constructively and in the narratives between the Museum of Contemporary African Diaspora and Arts in Brooklyn, and your most current Totem House installation at the Crystal Bridges Museum of Art. How do your projects connect? And what is the evolution process from one project to the next?
SB: Yolande is particularly good at remembering strategies that we did for one project, which could be transformed and reconsidered for a new project. The MoCADA project was a very particular way of thinking about wood and making, but it also informed the way we thought about the facade for this dormitory project we did in Japan. Also at Crystal Bridges the design of the house was based on an alternate of a house design we've done for a client, a 600-square-foot house that was one of the schemes we decided not to pursue. We also revisit running themes. For instance, with the Totem House, the component aspect of it is part of a larger theme that we explored in different ways through multiple projects.
YD: Yes, there are formal lineages and then more constructive lineages with Arkansas. We started out with a constructive system which was much more like MoCADA. Our earliest studies stacked wood like Lincoln logs, but we didn't like the effect of it. Then we made it vertical. When you make it vertical, it doesn't have structure. So we had to put in horizontal supports, but we didn't want the horizontal reading. So we spatialized it. In doing that, we were drawing from other projects we had done, like the museum where there's a random void pattern in the facade, or the Business School where we were working with this randomized pattern in its interiors and the landscape. This lineage migrated to the Arkansas project. The fabricator we were working with called it something like constructed randomization, a really good phrase for this thing we had been doing organically: making these systems that appear to be random but actually were not. There is a logic, but the logic is on a larger scale. We migrated into this way of working. It wasn't an intention in the beginning. It just evolved during the design process.

JH: In your work, you unequivocally address race and gender. I am particularly interested in Black City, which explores blackness as a symbolic embodiment for both objects and people. Can you talk about the importance of race in your work?

YD: I can't say that Blackness per se, or race influences our work. What influences our work is openness to other cultures. And that ranges from an approach to the facade of the building that makes it more permeable, learning from Japanese culture and cultures in Latin America, where the boundaries are more porous, whereas in North America, the boundaries have been traditionally more hard. We often like to make two front facades in our buildings. The front facade and the back facade are both valid facades. There's an entry where you don't have any barriers – like a non-paying entry – and you can walk through the building and experience it. That's something that all of our buildings have, and maybe that's the luxury of working in Japan.
SB: Yes, access is something that we've always been really interested in. I mean access in a literal sense. What does it mean to access without having to enter? Being able to access other kinds of issues, or erased presences, or even opening up the conversation beyond a narrow idea of how architecture interfaces with people or how it's used by people. These are the broader sets of interests that your question fits into.
YD: We operate on more of a meta level, as opposed to a literal level. In the installation work, when one of the sets has been suppressed and the techniques for representing them have to do with tracing and layering and casting, like casting shadows or using light we actually learn from these and apply that in our built work. Because those are formal strategies in the end.

JH: Is there anything else that you want to tell us about? Maybe current things that you're working on.

YD: Well, we just finished an extension of the Arkansas project, where we worked with another architect to make a virtual/AI experience of the house,and we're going to show it at a current exhibition at MIT on the Black City projects.
SB: Jose, you began talking about straddling, and I think we do straddle between these different types of projects that are architecture, the research/speculative work, the installation work, and finally, academia. We are both very much architects first and academics second, so the way that we approach even the most speculative research type projects is through an architect's eye.
YD: Yes, the language and expression of construction is something that we focus on and that we like to bring to teaching, as well as to practice.
Photo Credits:
iHouse dormitory, Josai International University, Togane Japan. Photo: Kawasami Kobayashi
Mizuta Museum, Josai University, Sakado Japan. Photo: Daichi Ano
MoCADA Brooklyn, NY. Photo: Frank Oudeman
Business School, Josai University, SakadoJapan. Photo: Nakasa Photo Ltd
Totem House, in the exhibitionArchitecture at Homeat Crystal Bridges Museum of American Art in Bentonville, AK. Photo: Ironside Photography