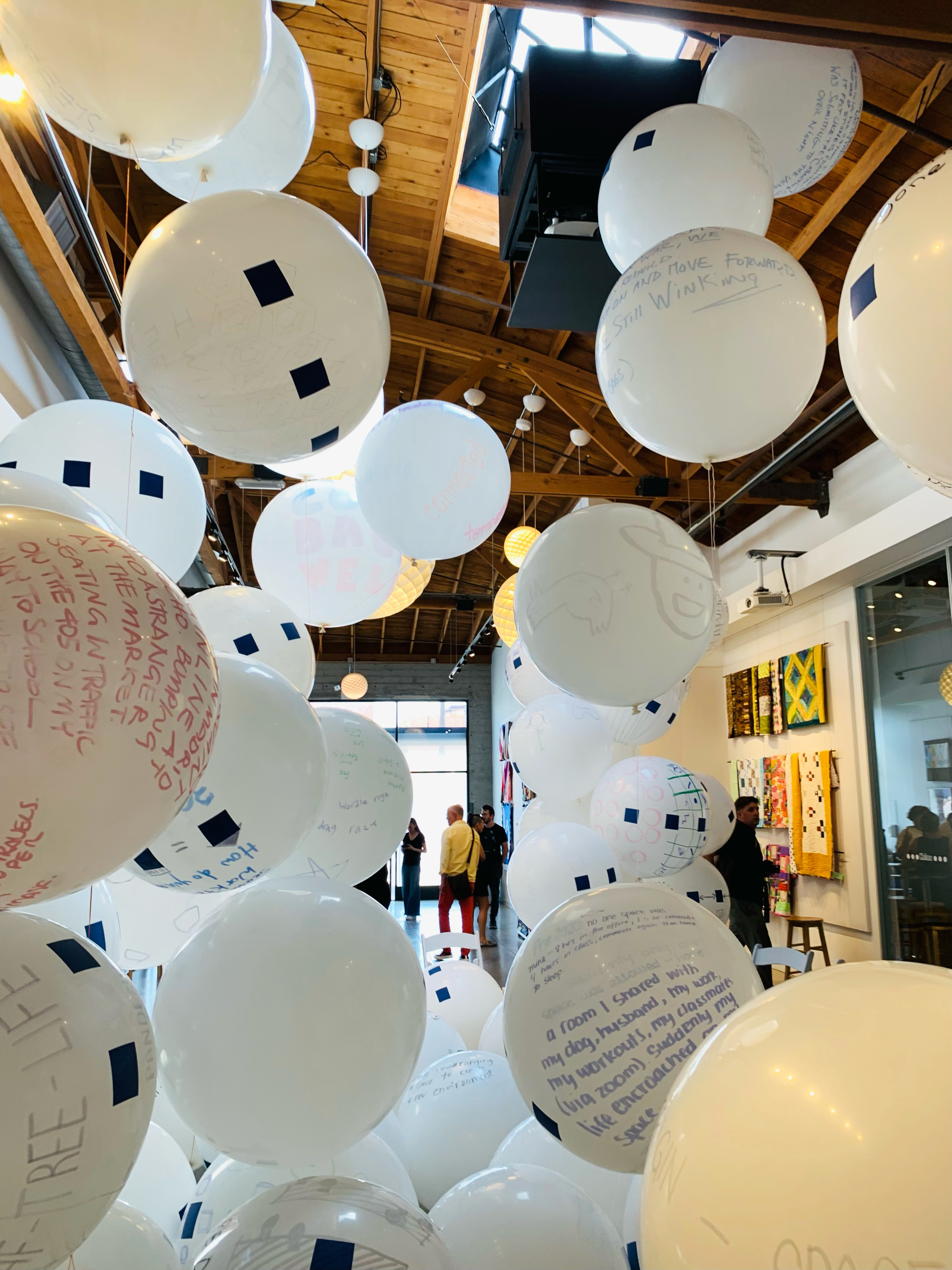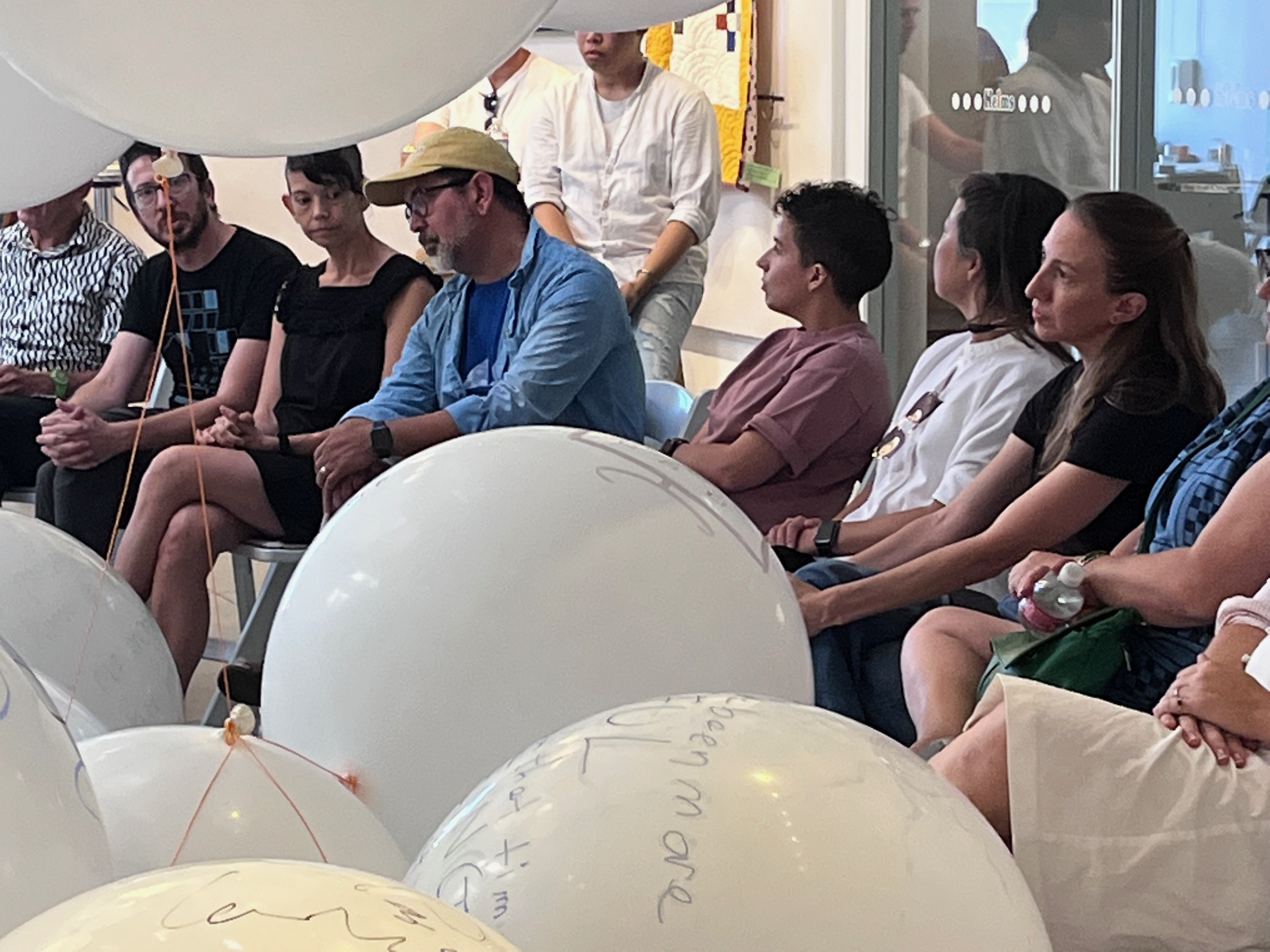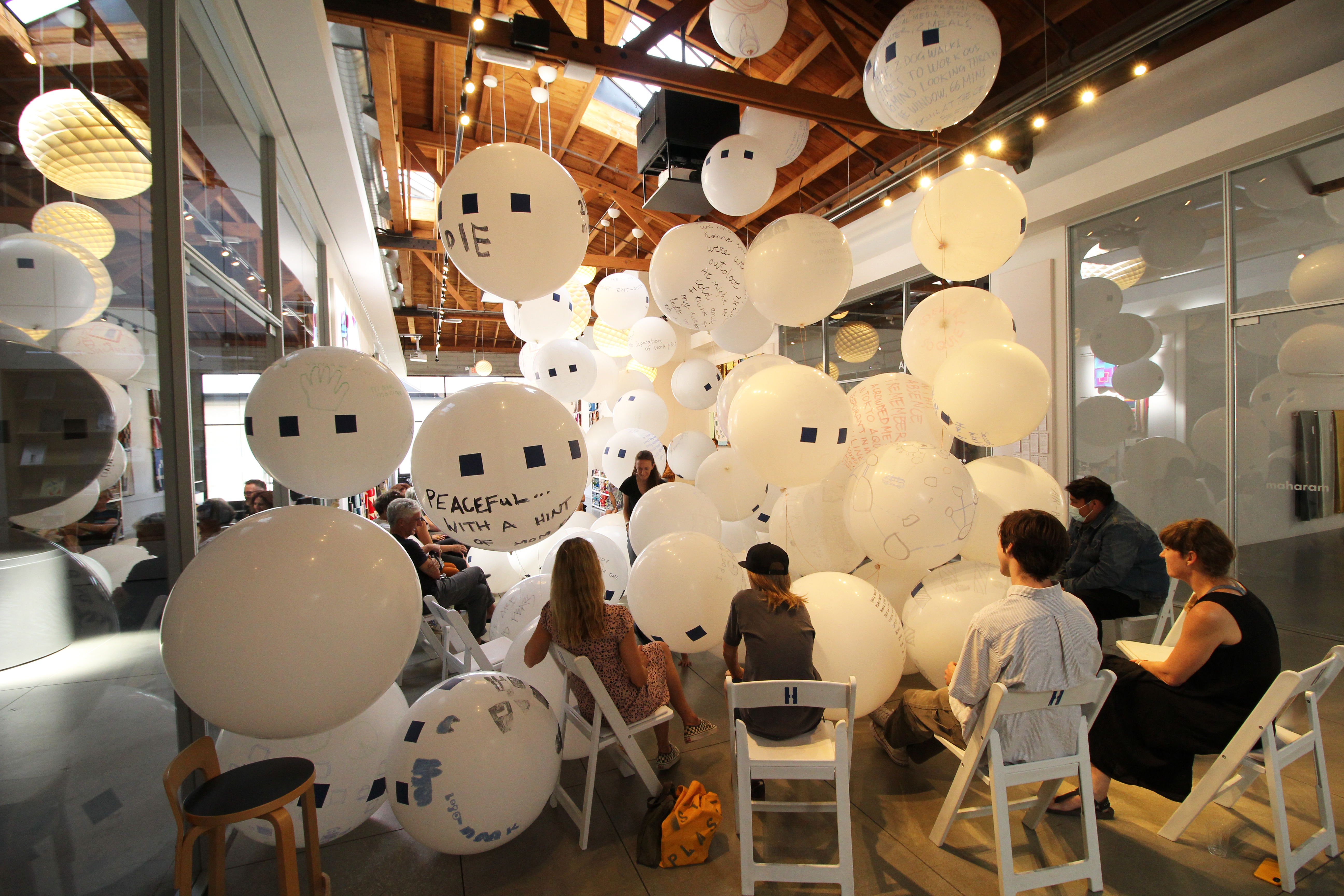 INTERVIEW
WELCOME BACK
Delirious L.A. interviews are traditionally held with one or two interviewees. This time, we reached out to the Los Angeles community and engaged a far greater number of contributors.
On September 18th, at Helms Design Center, clouds of large balloons floated from floor to ceiling as people surrounded them, seated in a circle. The globes swayed midair, and people got varying glimpses of who was sitting across the way--the view was always shifting, the space slightly changing. These 100+ balloons carried diverse messages from the Los Angeles community--some were drawings and others statements; all reflected changes to the perception of space, public and private, as a result of the lockdown during the Covid-19 Pandemic. They were collected in the months leading up to this Welcome Back! Balloon Installation and Community Dialogue, the event marking the L.A. Forum's return to public programming.
Frances Anderton
moderated the conversation with 40+ people by going around the circle and offering each person a chance to speak on the same topic. Everyone spoke. For those who contributed balloons but could not attend, their thoughts filled the space and created a dynamic engagement by design. Participants couldn't always see who was talking, but they could hear a voice through the clusters, a voice that, at times, shared personal accounts of how spatial changes affected them, a voice that could represent that of many.
Below are some of the thoughts that floated through the space.
Where did the space for significant and systemic change
that opened over the pandemic go?


The pandemic has saturated space with infinite new grids, fixing us in place.
Will we ever find new paths to disturb our gridded existence?


Hush motors led to bird symphonies


a normal day during covid time in a 2-bedroom apartment:
1 shower, 3 teas, 6 zoom calls, 46 mins texting friends, 57 mins of social media, 13 trips to the fridge. 1.6 l of water, 2 meals, 1 nap, 2 dog walks, 2 tries to work out,
18 mins looking through the window,
66 mins looking to the ceiling before sleep


When the City filled the Venice skatepark with sand, skaters showed up with shovels to reclaim their concrete joy.


I could talk to people on the phone or see them on video, but being physically present with others has a magic that's irreplaceable.


In the peaceful absence of cars, the elementary school parking lot became a bocce court and street hockey rink.


Inside our lockdown bubble, I fell deeper into love with you.


What does it mean to build a new post pandemic environment for moving forward? How can I rebalance my physical and digital routine and interactions?
How physical distancing rules have affected my relationships with loved ones?
and with strangers?
How has that affected the places that I inhabit?
What do I learn from living in different houses during pandemic?


I wish I remembered the last movie I watched at the Cinerama.


"life changes fast / life changes in the instant you sit down to dinner / and life as you know it ends" (Joan Didion).
Your chair next to me is empty and I miss you.


One way foot traffic for pedestrians around the Silverlake reservoir.


The balcony became my stage and the neighbors my (captive) audience.


The pandemic confined me to a home of little space. It made me uncomfortable because I had no taste. But luckily for me I had my wife, she brought me grace.
(Big Mike)


Being at home connected us with our neighbors and streets.
Going on walks to see a fairy garden and plant cuttings.
Trading meals with our elderly neighbors.


Home morphed into an all-in-one. Cooking became comfort in routine biking turns to escape cats remain the nightly entertainment.


Being single and living alone my social world became very isolated when working remotely was implemented.
That daily office interaction with coworkers that I took for granted was immediately gone.
Personally it revealed that I am more of an introvert than I realized.


The beginning of the pandemic felt like a roller coaster. It was a little scary. There were ups and downs and you could go very fast on the freeways. The rate of work also sped up in our field. Couple that with the toll it took on some people and you realize it affected you a lot more than you realize even if the extra personal space was nice.


As a single mother of a 9-year-old daughter I was afraid that the lockdown would be scary and sad and boring and terrible but we connected in new ways and watched so much bad tv and cooked and walked and created together. That time was a gift.


Slowing down and feeling what matters, falling in love, finding a new direction.
Empty freeways it is possible to work from home


I personally enjoyed the distance required. I went into the inner highways.


I don't think I have been more grateful for my house and in that time, I started seeing how much more it could be.


Together/apart


After storms, earthquakes and war WE instinctively rebuild, we push on and move forward, the stars are winking (and so it goes)


Being forced to stay at home was bad.


I realized I can't function in kitsch spaces.


DROPLETS-DEW-LEAF-TREE-LIFE-SPACE-AIR-BREATH
Pandemic Free Association vol.1


UNKNOWN-THIRD ROCK-PRECIOUSNESS-ORIGIN-SPACE
Pandemic Free Association vol.2


Space-room-window-threshold-mask & keys-exit-enter-compartments-capsule-air-escape-trace-space.
Pandemic Free Association vol.3


Having enough spaces and doors to close! Against the open floor plan. Many little rooms, (cleaning, food) nice neighbors.


I am glad I can go out with my friends and go shopping.
Home & my room became more important.


The house became the center of the family, details, food and nature became important.


distance/proximity


Looking forward to welcoming people back to the mending table.
AKA mending as metaphor


Seasons of work from home
How do you measure a year?
3036 miles saved & 120.5 hrs/5 days saved in commuting


In this space,
In this void
In this absence
I remember:
A crowded metro in Tokyo. A quaint
Restaurant in Madrid
Waiting in line at the Scho. Bumping
Into a stranger at the market.
Seating in traffic on the 405 on my way to school
Wishing to see you in the crowd at Coachella
Traveling to Lisbon to Marcella's wedding AND feeling lost among all
those people
Coming home
In a rush to
A changed
Environment
A changed way of life
No more crowds. No more travels.
Just a rushed visit to the Super.
And a sea of eyes smiling tentatively behind a mask.


Alone in the empty city,
so quiet, so vast, for me alone


Montego
El taller
Leica35
Living in Grids


Afternoon leisure and languor
I was
We were dogs
Being 27 and hot
Skyppy the dog
Dicky the dog
Wordle NYT
Ru Paul drag race
Thumbs sore from texting
Friends
Bday
"The Stew"
Match makings
Watch a lot of TV
Falling in love
Walking in the fog for 2 years


Pre 2020 no one space was mine-8 hours in the office, 1.5 hours commute
4 hours in class, commute again then home
To sleep
Suddenly only one space was allowed-home
A room I shared with
my dog, husband, my work
My workouts, my classmates (via zoom). Suddenly my life encroached on my space.
It was wonderful and stressful and never ending
and also
too
short.


Solidarity
We are happy together


I 'm surrounded
by a park_______
I finally connected with the magic
That is
Elysian Park.
Walks
Jogs
Birds
Coyotes
Owls
Squirrels
Etc.
!


March 16 2020
School closed and my favorite sweater was forgotten in a locker.
We moved to a new house in Joshua Tree where we have more outdoor space.
At night it's cold and I think of my sweater left in the locker.


It took a global pandemic for L.A. to implement wide spread outdoor dining
Reducing the space dedicated to motorized traffic in favor of human activities is something that I hope will remain in the future.


Crowded conditions
Lack of fresh air
Poor ventilation
Poor sanitary conditions
In industrialized farming practices
Led to the spread of zoonotic diseases.


Millions of human lives lost
Millions more of animal lives lost


Humans need to treat animals and the planet better.


solitude/alone+community/together
1+1=1
is/was the best memory of Quarantine
Welcome Back! was imagined and organized by L.A. Forum board members Donatella Cusma, Quynh Nguyen, Lorena Garcia, and Monica Lamela Blazquez, with additional support from Ismaelly Peña. Photos by Gregory Van Grunsven. Our warmest thanks to Frances Anderton for facilitating the conversation and to Helms Bakery District for hosting.