INTERVIEW WITH NINA BRIGGS ON JUSTICEscape, A COURSE AND MANIFESTO ON RACISM IN THE MAKING OF SPACE.

Designer, founding principal of

The Fabric

, educator – and co-President of our own L.A. Forum for Architecture and Urban Design – Nina Briggs was

interviewed earlier this year

on Breaking the Silence of Design, a podcast featuring "a series of uncomfortable conversations around race and inequity in the AEC industry designed to break the silence of design." Podcast hosts Karen Compton (CPSM, Principal of A3K Consulting) and Gabrielle Bullock (FAIA, NOMAC, IIDA, LEED AP, Principal, Director of Global Diversity at Perkins & Will) asked Nina about JUSTICEscape, the course she created at Cal Poly Pomona. Nina generously shared with us the JUSTICEscape manifesto and her preparatory notes for the interview, notes which are rich in content and references, an exploratory primer on "the infinite overlaps of how race and racism are constructed by spatial means."
This interview was conducted on March 12, 2021.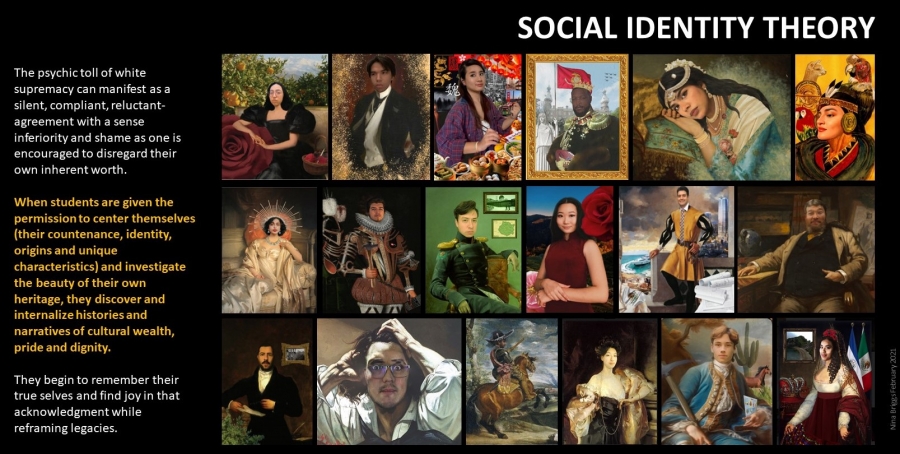 INTERVIEW WITH NINA BRIGGS
ON JUSTICESCAPE
KC + GB:
You created a new course at Cal Poly Pomona, JUSTICEscape. First of all, what is it? And why did you feel it necessary to create it?
NB:
The JUSTICEscape course responds both to our Student Leadership Group's 'Open Letter to the Department of Landscape Architecture from Students For Immediate and Long-Term Changes to Combat Racism and Anti-Blackness', and to my realization that the 'BLM Reading Lists' circulated among the built environment and academic communities would not be enough to contextualize the renewed yet overdue scrutiny of the systemic intersections of racism and the built environment. As I read every book I could over the 2020 summer, I found it necessary to 'connect-the-dots' from historically legislated white supremacy to the contemporary policies that continue to shape the built environment to the detriment of BIPOC. As these histories and policies went/go uninvestigated and are normalized in American curriculums, design schools continue to operate and educate from a Eurocentric lens, perpetuating the colonization, exploitation, and marginalization of peoples of color, simply by ignoring how the landscape and our environments have been systematically curated.
For my personal research, I graphically mapped the connections of Race-Space Theory to understand their impact and spatial intersectionality. As a practitioner and educator, I was under-educated in the infinite overlaps of how race and racism are constructed by spatial means, and I needed to data-visualize these systems. Reading Race-Space Theory is enlightening and horrifying but cannot be fully understood without illustrating its applications in design education and practice. It's almost like we've been operating in the dark – in a kind of dreamlike state detached from the harsher realities of the power structures that determine what gets built and why.
My mapping was not intended to be a course. It was a personal exercise, to satisfy my curiosity, to make sense of the connections and why they are not integral to design curricula. I shared the map with an academic colleague who proclaimed, 'This is a class – that needs to be taught!' Word got out and I was asked to teach it. The course then became an uncomfortable, imposter-syndrome, weight to design, as I am so conscious of the incredibly prolific scholars, academics, activists, artists, designers, and practitioners who have dedicated their lives and careers to this work – who have the life experience and erudite expertise to teach Race-Space Theory. But my responsibility to, and consideration of, my students and their justified demands overrode my discomfort, and I culled all the applicable landscape architecture-related resources I could find into a living database for the students to study in response to the assignments, hoping it would enable them to craft future visions of space devoid of caste.
JUSTICEscape attempts to provide a safe space for students to voice their frustrations, concerns, experiences, dreams, and questions – to have difficult conversations. Since our pandemic-induced synchronous teaching and learning eliminate our studio-culture tradition of in-person collaboration, my teaching assistants and I do our best to create a virtual forum of 'sharing', as we discuss how space can be shaped by caste. We ask the students to make corresponding digital artifacts addressing the topics. It's literally a protected learning community, carefully piloted by our manifesto to unearth, expose, and debunk the false narratives of discrimination, while engaging each other with empathy. The assignments and activities are designed to redefine personal dignity, sit with grief, and unpack policy as the students imagine futures devoid of caste. Caste: The Origins of Our Discontents by Isabel Wilkerson is our textbook. This book helps us investigate and link racist ideologies and policies throughout history to explore the caste system and its legacies of colonialism and social inequities. We emphasize how space can be shaped by racism (or the ignorance or denial thereof) and its connections to modernity, migratory politics, public health, land use, the environment, and human representations in the built environment, including concepts of Blackness, Whiteness, civil rights, resistance, and protest. Our hands-on activities engage students' insights on the interconnected discourse of humanness in Landscape Architecture, Urban Design, Architecture, and inform and reconceptualize what it means to be human. We trace the historical trajectory from socioeconomic access and mobility to the privatization and consumerization of public space and institutional goods as hoarding vehicles to maintain privilege, using race as the camouflaged driver of capitalism. We confront the hypocrisies of these processes to reveal denied facts and reclaim our value as tellers, keepers and preservers of our own histories and stories. We disassemble the illusions of the empire and decolonize inequitable structures, unmasking the intrinsic racial hierarchies that persist in the making of the built environment.
This is by no means a perfect curriculum model, but a beginning approach that poses subjugated perspectives from an epistemic standpoint, or what bell hooks calls "a central location for the production of a counter-hegemonic discourse." This approach is also rooted in theories and research that prioritize a critical examination of whiteness and related concepts via the sociological disciplines, examining the complex intersections of Privilege vs Oppression, Social Identity Theory, Epistemology, Critical Whiteness Theory, Lived Experience Theory, Phenomenology, Environmental Law, and Human Behavior, and of course, the Eight Pillars of Caste Isabel Wilkerson details in her book. These topics need to be taught from multiple social, historical, and socioeconomic perspectives due of the vast differences in students' experiences, to avoid the danger of homogenizing their experiences. Explicit education on the continuation of 21st century racism should be included, as a critical praxis capable of shifting the paradigm for students and contextualizing their current studies.
The goal of this course is to educate ourselves, hold each other accountable, and build solidarity in pursuit of embracive public space design, equitable representation, and consideration of all peoples in landscape architecture. We center our attention on social justice, examining and dismantling systemic canons founded on Eurocentric white supremacy, and work to create a genuinely accessible public realm.
A significant outcome of JUSTICEscape is the students' investigation of social identity – the portion of an individual's
self-concept
derived from perceived membership in a social group – and their reclamation of personal dignity, evidenced by the 'Dignity Portraits', co-opting a gilded age portrait with their own countenance, accompanied by an ethnographic narrative of their family history. This social identity approach to teaching/learning allows one to modify one's self-identity or social group perception towards self-acceptance, pride in familial legacy.
KC +GB:
Angela Davis speaks a lot about intersectionality. How do justice and anti-racism intersect with architecture/landscape architecture?
NB:
I look to Kimberlé Crenshaw as one of the founders of
critical race theory
and her development of
intersectionality
, the theory of how overlapping or intersecting
social identities
, particularly
minority
identities, relate to
systems
and
structures
of
oppression
, domination, or
discrimination
. Her research is critical to the development of
intersectional feminism
. Professor Crenshaw cites and continues the work of American Black feminists
Anna Julia Cooper
and
Maria Stewart
, in addition to
Angela Davis
and Deborah King. It's Professor Crenshaw's focus on how the law responds to issues of gender and race discrimination that inspired me to develop an intersectional analysis of how systemic racism has flowed through our socioeconomic and workplace systems, specific to planning, designing, and building.
Simultaneously, to establish the relevant nomenclature and discourse of JUSTICEscape, and to explore/question identity recognition, I wanted to dissect the history of Diversity, Equity, and Inclusion policies. I question whether Affirmative Action and DEI policies are working towards decolonizing our systems. How far do compliances go in creating a genuinely accessible and equitable public realm? What do anti-discrimination laws and policies do beyond protecting at- risk groups, monitoring the workforce, and curtailing race-based bias? How do we calibrate de-biasing in the making of the built environment? Do these policies educate future designers to plan for the communities they will serve, or do we teach them to check the boxes?
In order to abstract these policies I researched the history of legislations and federal compliances aimed at eradicating discrimination, from Roosevelt's 1941 Executive Order 8802 outlawing discrimination based on race, color, creed (broadened in 1943 to be applicable to all government contractors) through the 1964 Civil Rights Act, to Obama's 2014 Executive Order 13665 amending Johnson's (and Bush's amendment to) Executive Order 11246 to better enable workers to identify violations of equal pay laws, and his Executive Order 13672, again amending 11236 to prohibit federal contractors and subcontractors from discriminating on the basis of sexual orientation or gender identity. In 2015, the Department of Labor changed OFCCP's regulations to require federal contractors and subcontractors to disregard the sexual orientation or gender identity of applicants and employees, which required Contractors to revise their EEO and affirmative action policies to include sexual orientation and gender identity as protected classes.
The challenge in going down an anti-discrimination-law rabbit hole and cross-referencing it with city planning codes and ordinances is that laws (continuously subjected to political backlash) address workplace representation, and city planning codes (also subject to political will and fiscal stimuli) provide land use and building layout constraints, while superficially complying with diversity, equity, and inclusion laws. The deeper work is to unearth the concealed political, cultural, social, and economic codes of development, aesthetics, and space production – asking who has the power and agency to concretize design, and if livability for BIPOC is genuinely considered beyond face value? These codes are viewed separately, ignoring overlaps of racial hierarchies, social identities, and structural privilege, and appropriating cultural production. Raced bodies are further marginalized in architectural spaces and places through pervasive, legal exclusions and codified by inherent bias and stereotypes, resulting in homogenized, unjust environments, telling false stories. When addressing racism at institutional levels, these ordinances provide the illusion of fairness, but don't address systemic injustice. Despite prohibitions on discrimination in housing, health, education, employment, and voting, the injustices persist. The policies are as limited as some corporations' and institutions' public statements supporting Diversity Equity and Inclusion and Black Lives Matter, which are not enough to dismantle oppressive systems, as we now are witnessing the co-opting of this social movement and brutal violations of civil rights.
I believe these obstacles are surmountable if we proceed beyond 'awareness' to education on the history and persistence of systemic racism (recognizing that colonial history shapes the current inequalities that structure society), while simultaneously acknowledging the full humanity and rich contributions of all BIPOC. We need to be able to hold these conflicting realities at once, as they are the keys to unlocking and supporting our future visions for a just and healthy landscape.
KC +GB:
I've heard more than one of my peers in architecture say, we can shame people into changing. But you have been clear that 'shame is not an effective social justice tool and is inherently dehumanizing.' What do you see as a more effective approach?
NB:
Full disclosure: I look to Brene Brown for her research on vulnerability, shame, and accountability. Professor Brown says that accountability is a prerequisite for change and we need to understand the difference between being held accountable for racism, and feeling shame, and being shamed, while unpacking shame vs guilt. However, it's important also to challenge cognitive dissonance and the six stages of 'armouring-up' as she describes. We try to address these and other mechanisms in our manifesto – as a sort of 'rules for engagement' in JUSTICEscape. Each manifesto tenant is accompanied by a corresponding plant, best known for its medicinal/healing qualities.