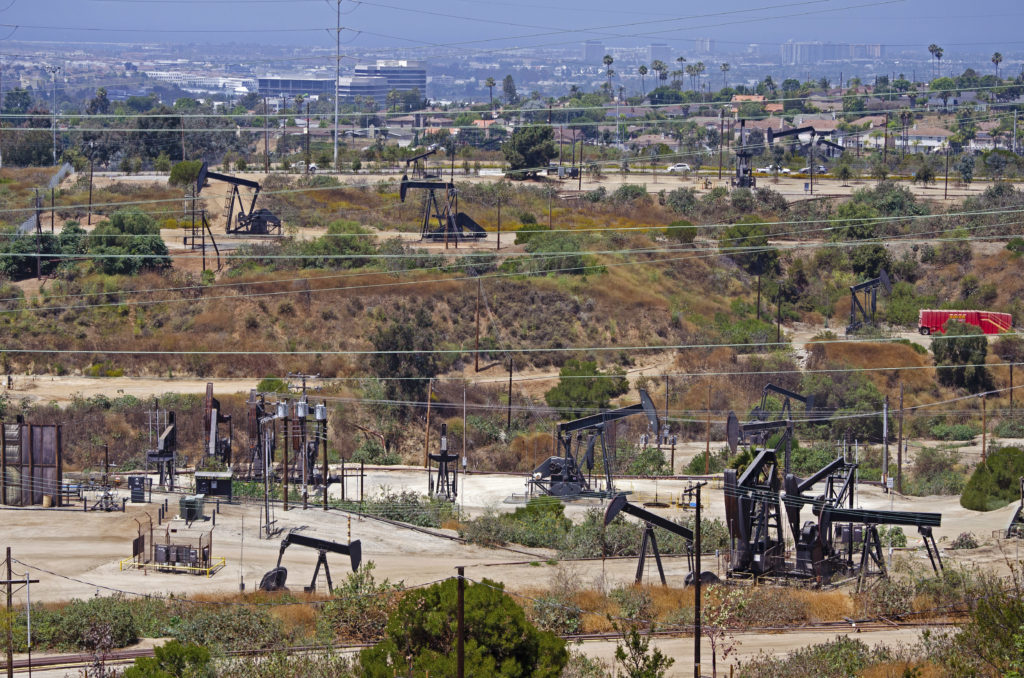 INTERVIEW WITH MARK OLALDE
First of all, Mark, thanks to you and Ryan for your recent articles. For our DLA readers who might have missed reading your LA Times pieces, could you summarize the public health challenge that deserted oil wells present to the citizens of Los Angeles?
At its simplest level, the investigation says that someone needs to pay to clean up the oil and gas industry's mess around Los Angeles and California. Neither the industry nor the state have made enough money available to do so, and until these old oil and gas wells are plugged and remediated, the public is going to face a threat of leaking gases that can negatively affect community health and help fuel climate change. As the state's fossil fuel industry continues to shrink, the government might be too late in actually using its regulatory authority to make sure the liability burden falls on the companies responsible. If they don't do this in time, they'll be faced with a dilemma: saddle Californians with either the health or financial burden (or perhaps a dollop of both).
What more can you share about how urban communities might address this problem more directly? And do you know if there are elements of LA's Green New Deal that address this issue?
There are a few main problems in addressing old oil well cleanup in urban areas. The first, specific to Los Angeles, is age. The first well to be drilled around the Echo Park area, for example, was in 1892, and now almost none of the more than 1,000 that were drilled in that single oil field are still operational. So, who pays, and how do they pay if there's no money coming in from current production? The second big issue is cost. If you've got a landscape in Kern County that's been stripped of vegetation and covered in oil wells, it's not too expensive to clean up due to economies of scale. But in Los Angeles, you've got to do this work around built-up infrastructure, private property and people going about their lives. If plugging and abandoning — the term for cleaning up an old well — costs in the ballpark of $40,000 in Kern, that figure is $100,000 in Los Angeles. On Firmin Street near Echo Park, plugging just two wells cost $1.2 million several years ago.
I'm not an expert on LA's Green New Deal plan, but there are a few instances where related issues appear. The first is a commitment to filling the role of petroleum administrator, which is the city's top oil regulator. Ironically, there is only an acting administrator right now. Another big point — at least to someone like me who has spent months digging through incomplete and scattered government data — is the pledge to create a real tracking system for the city's wells by 2021. This would be a big step in the right direction. Also by 2021, the city is saying it will create an "auditing and tracking program for oil and gas wells." Inspections are currently piecemeal, so this is another huge, positive step.
One of the criticisms of the LA Green New Deal is that it does not include a 2,500 ft buffer zone between active oil drilling sites and adjacent homes or schools. With so many Angelinos at risk, do you think such a buffer zone should be added to the LA Green New Deal?
It's not my place as a journalist to opine too much, but a report from the city petroleum administrator's office found that there are various impacts to community health and safety within certain distances. These issues range from degraded air quality to safety in cases of leaks or explosions. And, there are always the unknowns when living around oil wells. Take, for instance, the explosion in Firestone, Colorado, in 2017 that was related to oil and gas infrastructure near a residential area and killed two people. In addition to a strong fossil fuel lobby fighting tooth and nail against proposed buffer zones, city and state officials are also scared of instituting too large of a buffer for the fear that they might have to pay oil and gas companies for their potential loss in revenue. This could be a huge financial blow to localities.
It's probably also helpful to make mention of how a few of our case studies play into this. It appears that the architecture world and the building industry more broadly has already to some degree been tasked with cleaning up Los Angeles' orphaned oil well problem. In the second piece from this project, we found that some developers take on the liability for plugging old wells on land that they buy before they build.
What can the design community do to better support public health and environmental justice in the southland?
As we transition globally, however slowly, to a newer and cleaner economy, heavy extractive industries like oil and gas will likely become increasingly irrelevant. It may take decades, but as that happens, associated infrastructure will be in need of cleanup. What we do with it, who pays, and what secondary economic lives they have that might finance that cleanup and a just transition are all questions that creatively planning the built environment can begin answering. I'd also suggest engagement with city officials, state oil regulators, environmental groups working on those buffer zones, unions and oil industry groups, if they are willing to create a constructive dialogue. I say this because the city has historically been playing catch-up in dealing with its historical oil wells, and in many instances, they severely lack the expertise you would assume of the city. But, in recent years, they and the state have shown what seems to be a genuine willingness to take on this issue, making now a great time to take a seat at the table.
CALIFORNIA'S MULTIBILLION-DOLLAR PROBLEM: THE TOXIC LEGACY OF OLD OIL WELLS
[Los Angeles Times, Mark Olalde, formerly with the Center for Public Integrity, and Ryan Menezes, with the Los Angeles Times, reported this story, Published — February 6, 2020]
https://publicintegrity.org/environment/wells-run-dry/californias-multibillion-dollar-problem-the-toxic-legacy-of-old-oil-wells/
DESERTED OIL WELLS HAUNT LOS ANGELES WITH TOXIC FUMES AND ENORMOUS CLEANUP COSTS
[Los Angeles Times, Mark Olalde, formerly with the Center for Public Integrity, and Ryan Menezes, with the Los Angeles Times, reported this story, Published — March 5, 2020]
https://publicintegrity.org/environment/wells-run-dry/deserted-oil-wells-haunt-los-angeles-with-toxic-fumes-and-enormous-cleanup-costs/
We at the Forum are interested in instigating a dialogue about how this legacy oil and gas infrastructure in Los Angeles intersects with the Mayor's goals of an equitable and sustainable city as per
LA's Green New Deal
.
Photo Credits: Inglewood Oil Field in Los Angeles County, Mark Olalde.