Javier Cabral is a journalist, cookbook author, and self-proclaimed "vato loco from East L.A. and the San Gabriel Valley" who edits

L.A. TACO

, a small-but-mighty member-supported publication and platform covering the Los Angeles food scene as well as social justice, representation, and immigration issues. Cabral has been covering local and national food and drink culture since 2006 and was an Associate Producer for

Las Cronicas del Taco

on Netflix. Below, LA Forum Co-VP of Information Antonio Pacheco interviews Cabral to learn more about how the urban design of Los Angeles feeds into the city's food culture and vice versa.
This interview was conducted on April 29, 2021.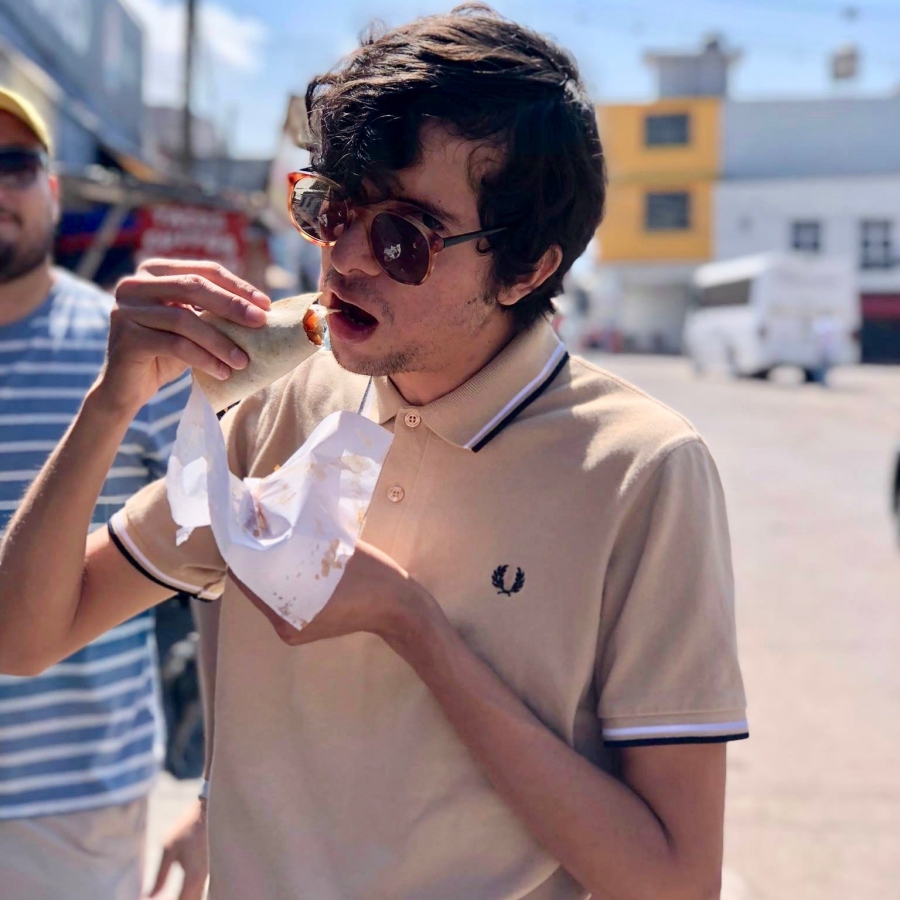 INTERVIEW WITH JAVIER CABRAL
OF L.A. TACO
I want to talk a bit about the foodways of the city from your perspective as a writer and editor with L.A. TACO. How do you go about covering L.A.?
When L.A. TACO started back in 2004, it was covering tacos, cannabis, and graffiti, and was basically L.A.'s local answer to VICE magazine. I started writing about food in 2006 independently as a food blogger to reflect on my experience of being born in Hollywood (at the Children's Hospital) and raised in Alhambra in the San Gabriel Valley and in the unincorporated parts of East L.A. in the 1990s. The one thing that L.A. TACO does to this day is to help to dispel myths about L.A. and to share stories of the marginalized communities in L.A. County. If you're from here, you know that whenever you travel, L.A. has gotten a bad reputation for being "fake;" it's the L.A. everyone loves to hate — the influencers, all the stuff that is joked about on Saturday Night Live, etc. My mission is to share the stories that are actually of this place, but that are especially of the east communities — all the neighborhoods of East L.A., Pico Rivera, Whittier, etc. — that's kind of our mission at L.A. TACO, to share the stories that make people excited. Like our last big story about torta de cochinita from Yucatán in La Puente, for example. That headline read:
"

From Yucatán to La Puente

,"
those are the bridges we try to form with L.A. TACO.
We are a member-supported publication; we have no corporate funding. And you know, we made a lot of new members and earned a lot of respect last year during the uprisings by covering the struggles of Black Angelenos and Indigenous Angelenos who aren't getting covered by larger publications.
As an editor, I constantly have to invest in and hire new writers; it's easy to just hire the same writers. There's no disrespect in that: If you're a good writer, you're a good writer, but I like to branch out. Instead of me telling someone else's story, I'd rather find someone on Instagram who can tell it themselves. Since I came on board in 2019, we've published over 30 new writers. Many are people who didn't identify as writers, or are young journalists that just have that passion for storytelling, like
Janette Villafana
, a writer who pitched me after I gave a talk at the Cal State Long Beach journalism program. She had a lot of raw talent and has done a lot of great reporting. And that's been our formula: instead of filing the stories ourselves, we trust people from all over L.A. to tell their own stories, and their parents are proud, their friends are proud, their communities are proud.
Increasingly, Los Angeles is becoming known internationally as a place with incredible culinary traditions — from tacos and Birria to soup dumplings, Doro Wot, and everything in between. In some ways, the region's sprawling geography facilitates this culinary diversity; for so many people cooking is a way of getting by and making ends meet. How does the way the city is designed and planned facilitate these food cultures?
Everyone likes to vilify L.A. for being so spread out, for not being built as a walking city, the traffic sucks, etc. As
Jonathan Gold
once said, sometimes we're too occupied with our own selves because we live in single-family homes and don't manage to do our civic duties — but my take on this, and a term I think about often as someone who is a child of immigrants — is the concept of
rasquachismo
as it relates to urban planning. I really feel like that combined with the informal economy, aka the street vendors, all the DM-only food, all the connects we make through word-of-mouth and social media, those are the things that make L.A. one of the best food cities in the world.
It's that sense of adventure, of hearing every day about a different family or a new vendor who is cooking something unique and trying to honor their own culture or the region where they come from, and they're doing this out of their driveways, in front of their house, out on the street, that can only happen because of L.A.'s urban design. And also, because of the segregation and redlining that happened in the past — For some reason, the neighborhood of Lennox outside of LAX has the best marisco spots per capita in the city. Why? Because it's underneath the flight path of the planes, because it at one point had some of the cheapest housing in the city, which accommodated immigrants from Sinaloa who happen to specialize in mariscos.
Whenever I want to experience old school L.A., like the 90s and early 00s L.A. I grew up in, I drive down to Lynwood and Huntington Park, because these are the neighborhoods where you'll be driving around and a house will have a sign saying "Birria estilo Michoacán" and you'll know you've found something special. Or, in Cudahy, there's this old taquero from Nayarit who makes a roasted Lechón with a mustard salsa that is just so good and unique. Think of how he got here: He came from Nayarit, moved to SELA because these are the areas that are more affordable, got old and didn't have a plan for retirement and needed to make money, so, when all else fails, they started cooking food from their heart. If you're just starting out in business and you cook a regional taco style that hasn't made it to L.A. yet, you're probably going to make it pretty big. The fact that people are still bringing new taco styles to L.A. in 2021 is exhilarating. It's so special and one of my favorite things about this city.
I think back to Jonathan Gold and how instead of referring to L.A. as a melting pot, he referred to it as a cultural mosaic where you can defy the expectations of assimilation into American life, where you keep your identity and culture, and you are one part of this mosaic.
This issue of affordability is so critical, obviously. You hear a lot about different populations cycling through neighborhoods over the decades, how Isamu Noguchi and Julius Shulman both grew up in Boyle Heights, for example, when those were different neighborhoods, or how parts of South L.A. that are typically thought of as being Black enclaves are now majority-Latinx areas. How does L.A. TACO look at these changing circumstances and their impact on food?
You have to fight to live here — it's so expensive, and you are essentially pinned against people with vast generational wealth competing for the same land. There's constant development and violent gentrification at play. Recently a lot of people are moving out to the Inland Empire. You're seeing a lot of taqueros open up branches over there because L.A. is not sustainable when you're in business with no investors. L.A. is pushing beyond the geographical regions of "L.A.", you're seeing it exist in the IE (Inland Empire) now. We recently featured an article about how one writer dealt with the dissolution and identity crisis of not being able to afford to live in L.A. We try to feature personal essays that honor that generational L.A. struggle. And some people find themselves moving back to L.A. after leaving, because of their parents' health, for family, for emotional and non-tangible reasons. It doesn't really make sense — it's so expensive, especially if you have a family, it's hard to make a living in L.A. But also, you see the children of immigrants stepping up in the restaurant industry. They say, "this restaurant is my family's legacy, am I really going to pursue my career in [fill in the blank] or am I going to step up?" They say, "I'm not ready to see my family's legacy die in L.A.," and they carry the restaurant on their backs.
Guelaguetza in Koreatown is the perfect example that brings together urban planning, immigration patterns, and L.A. life. It was one of the first Oaxacan restaurants in L.A. when it opened over 30 years ago; they moved into a building that used to be a Korean buffet. We think of K-town as a Korean community, which it is, but it's also a hub for Oaxaqueños and Central Americans. Back then, the owner of Guelaguetza made a deal with the owner of the Korean buffet, and they did this, somehow, even though they didn't speak the same language, they somehow forged a deal. And look at what it is now.
The trend has been one of more people leaving the US for Mexico in recent years. People say, "I'm tired. I want to go back to my country." That's what happened here — the founders both retired in 2012, and their kids stepped up and said, "Let's buy it from our parents because we're not ready to see the business die." Now, the menu is smaller, the website is streamlined, you can buy
Hoja de Aguacate
if you want to make Oaxaqueño-style beans at home with an ingredient that was previously hard to obtain.
On L.A. TACO, we published a story about
Anajak Thai
, an old-school Thai place in Sherman Oaks, one of those restaurants with the framed signed portraits of famous people who have visited the restaurant. The father had health problems, the son was an art major at Art Center and had this pivotal moment of "Am I going to step up, or what?" And now he is offering a Thai Omakase, which is insanely good. It's not cheap, but it's an incredible meal, probably the best meal I've had this year, it's a very luxurious experience. So that's what I mean when I say the sons and daughters of the families that started restaurants in the 80s are stepping up and making some really cutting edge shit, stuff that you can't make unless you have that pressure on you that comes with being a chef.
It's interesting to see this type of fusion come up through generational change.
There's also
Sara's Market
, an old school corner tiendita in City Terrace; it used to be your run-of-the-mill L.A. liquor store with 40s in the back and where you can get gallons of milk. A few years ago, the daughter who now runs it stepped up to take control of the shop. And now that shop is one of the most unique and interesting shops in the US, I'd say. When I grew up, City Terrace was dangerous; you'd get beat up going to punk shows, etc. but now, the realtors are priming it up to be like the next Mount Washington or something, it's getting really expensive, it's getting marketed with all these realtor words like "views" and "hillside living" and whatnot that appeal to the upper class people, and you see that neighborhood is changing. The daughter kept the store going for her parents, recognizing that there's a demand for high quality products, craft beer, organic tortillas, artisan chorizo, and natural wine in the neighborhood, but they did it in a way where they still honor the old-school customers who still come in for their 40s of King Cobra. You see white people come in for wine, but it's still a hood-ass little tiendita, and they have crazy-delicious pizza from
La Morra
, which is this high quality Neapolitan-style pizza place in Mid-City; and they're selling their frozen pizzas there. They're offering these higher quality products without making the regular neighborhood customers feel they can't come in or that it's out of their reach, which, in my opinion, is a noble ass thing, that's how you make change, when you appeal to everyone and don't alienate the residents of a neighborhood who have lived there for generations.
For you, is there a point in which a "tiendita" takes on a new definition? Like, we see this huge debate in New York City over what is and is not a "bodega," and I am wondering how flexible is the L.A. tiendita type as a place, as a neighborhood institution?
All west coast vs. east coast jokes aside, I see a big difference being that bodegas offer easy-to-prepare food (chopped cheese sandwiches, etc.); in L.A. because the way our food and permit systems are set up, not many liquor stores can even offer simple sandwiches, because at that point it becomes a deli [requiring different permits]. In L.A., all the food happens outside the tiendita; That's one of the elements of how they become the beloved institution that they are. I'm happy with my elotes and my raspados with the street vendors that set up in front of it, that's my childhood, and all that happens at outside of the tiendita, not on the inside.
Though there are a few exceptions, "bodega" is being used by some business owners, especially in cases where it's a liquor store that the
Los Angeles Food Policy Council
invests in. They bring money to "underserved" communities so they can have access to "healthy food," they revamp the liquor stores to offer fresh foods and vegetables, not just processed foods. A lot of them are called bodegas, at a certain point it's regional pride and semantics to me.
How do you see the new regulatory system for street vendors impacting the food culture of the city?
The fact that the city of L.A. is acknowledging food vendors is so important; Mayor Garcetti, for the first time, acknowledged food vendors in his food conference a few weeks ago. It was the first time he acknowledged that street vendors were as important as a brick-and-mortar restaurant, he messed up pretty bad in the beginning of the pandemic when he completely neglected to talk about any street vendors and got reprimanded by activists who advocate for street vendors. It's all very political, and that's something we need to think about when we see a street vendor selling pupusas or bacon-wrapped hot dogs: they're micro-entrepreneurs in the city. The new permit system is exciting, and at the same time,
I think it's going to cost $541
to get a permit. Early on, there was a big disconnect between the city agencies that run the program, there were problems with the bureaucracy, it still needs to get sorted out.
At the end of the day, all these street vendors, DM-only food providers, the new vegan vendors, all those people, are making L.A. an even stronger food city, this is why you're seeing so many food writers move to L.A. Last week, David Chang went to a sushi and marisco spot in Lynwood and gave love to this Sinaloan dude from Culiacán who sells mariscos and sushi — its a trip because you're seeing those things become more mainstream in front of your eyes, what we thought was personal is blowing up, and now it's like "Oh, shit David Chang went to Lynwood and gave them love!" That's all because of how great of a food city L.A. is. It's simple: the more food vendors, the more L.A. becomes a world-class food city, and I hope the politicians acknowledge and support them for the asset they are.
A brick-and-mortar doesn't have to beef, no pun intended, with the taquero down the street — El sol sale para todos. And that's because there are two types of diners out there, the ones who want a bacon-wrapped hot dog after the show and the ones who want late-night Japanese food or a burger after the show; For me, L.A. is big enough for everyone to survive, food-wise.
Photo Credits: Javier Cabral, a journalist and the editor of L.A. TACO. (Photo courtesy of Juan Ramirez), An aerial view of Hawthorne Boulevard in Lennox. (Photo courtesy of Flickr user Ken Lund), Cabral eating a taco de carnitas while scouting taquerías for Las Cronicas del Taco in Huandacareo, Michoacán (Photo courtesy of Paola Briseño),